SPANISH COURSES FOR
TEENAGERS IN VALENCIA

Learn Spanish, make friends, discover a Mediterranean city
while having a very special summer.
Our International Teen Summer Camp in Valencia is perfect for 14 to 18-year-olds, with their balanced combination of fun Spanish lessons in the morning and great recreational and cultural activities in the afternoon.
TEEN SUMMER CAMP
LIVE WEBINAR
FIND OUT HOW YOUR CHILD CAN HAVE AN AMAZING SUMMER WHILE THEY ALSO LEARN SPANISH
JOIN OUR LIVE WEBINAR ON
WEDNESDAY, JANUARY 17TH AT 7.00 PM (GMT+1)
A unique cultural immersion in Spain
Time to learn Spanish in Valencia
Summer is the perfect time to switch gears, travel and discover new destinations! And our Teen Summer Camp combines language learning with fun and adventure.
Valencia is the perfect summer destination: sandy beaches, scrumptious food, safe streets, modern architecture and centuries of history.
It has everything 14 to 18-year-olds can ask for.
20 years offering the best language learning experience
Since 1998, thousands of participants have been enjoying our language courses in Valencia and, every year, we receive more than 800  students under the age of 18 from all over the world.
Our main objective is to help students learn a foreign language (Spanish) and provide them with a very special cultural and language immersive experience on the coast of Spain.
We also go to great lengths to give the highest quality possible in language teaching and to certify that we are an Instituto Cervantes Accredited Centre.
the lessons of the summer program
Monday to Friday
from 09.00 am to 1.00 pm 
20 lessons per week
a combination of grammar work and speaking practice
all levels
communicative approach
Our Language Summer School is the perfect chance to learn such widely spoken languages as Spanish with our team of experienced native teachers in dynamic language lessons, providing the ideal scenario for effective language learning.
The students are split into different groups according to their knowledge of Spanish to work properly in the classroom and guarantee the correct evolution of each student.
Students Country of Origin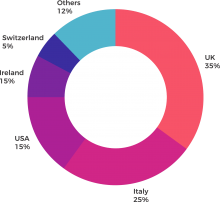 Has the program met the parents' and kid's expectations?
What parents say about our summer program.
of the parents fully agree that
• Their child has substantially improved his/her level of foreign language
• Their child has noticeably matured during this experience
• Enrolling their child in this program has been a wise decision
2. summer school in Valencia
A perfect summer destination
Valencia is the 3rd largest city
in Spain
This Mediterranean city offers the perfect mix: amazing leisure opportunities together with engaging cultural activities. It is a cosmopolitan, open city with a population of about one million – not too big, not too small.
All of our Teen Summer Camps offer +30 activities throughout the weeks and are included in the price. That's right! Everything on location is included.
From sailing courses to kayaking in the mountain rivers, amusement park tickets –including the amazing City of Arts and Sciences, and great weekend trips to Peñíscola, Calpe and Jávea, among many other destinations.
Sandy beaches, tasty food, safe streets, modern architecture and lots of history.
Just everything you need to make Valencia a home away from home.
3. student accommodation in Valencia
Two different options, two different ways to live our summer camp.
Local host family or residence hall? Both are winning options, but they are different and special in their own way.
Only available from June 24th to August 12th.
Galileo Galilei is a mixed-sex residence that can accommodate more than 500 students. It was opened in 1998 and is located at Universitat Politècnica de València, less than one kilometer away from the beach. 
Our supervisors accompany our students at all times. They are responsible for ensuring that the residence hall norms are followed and that everyone has a harmonious and pleasant experience.
Picking the residence hall also means spending a lot more time with the rest of the participants of our Teen Summer Program, resulting in more shared experiences and a stronger bond.
We strongly recommend choosing the residence hall for those students under 16. 
Special diets can be booked in advance.
Staying with a local family provides a unique experience for direct contact with the Spanish culture and its customs. This accommodation option will also maximize the time of exposure to Spanish, creating many opportunities for students to practice what they learn.
Our long-term collaborating families have been carefully selected to ensure the students feel welcome and comfortable with them.
When choosing this option, students have to go to school and then back home on their own. A host family member will show them the way on the very first day. 
Staying with a local host family is only available for students who are 16 years old or over.
*Students under 16 can only choose accommodation with a host family during those weeks when no residence hall is available. 
Would you like to know more about our International Teen Summer Programme?
Download our complete 'Student and parent Guide' to learn every single detail.
Our Language Teen Summer Programme is open from June 15th to August 31st. The whole summer!
The registration deadline is up to 1 week before the desired starting date. However, we encourage early enrolment as we have limited places available, especially for the residence hall.
If a student is an absolute beginner (no previous knowledge of Spanish), the starting dates are: June 17th, July 1st, July 15th, July 29th, August 12th and August 26th.
Host family and Residence Hall
Host family and Residence hall
Host family and Residence hall
Host family and Residence hall
Host family and Residence hall
Host family and Residence hall
Host family and Residence hall
August 10th – August 17th
August 17th – August 24th
August 24th – August 31st
| Accommodation type | 1 week | 2 weeks | 3 weeks | 4 weeks | extra week |
| --- | --- | --- | --- | --- | --- |
| Host Family | €832 | €1,555 | €2.233 | €2.817 | +€583 |
| Residenc Hall | €933 | €1.735 | €2,493 | €3.175 | + €686 |
| No accommodation | €351 | €626 | €918 | €1.188 | +€265 |
Both options, host family and residence, include full board and double room.
*Residence Hall accommodation is only available from June 22nd to August 10th.
*These discounts are to be combined with each other. Maximum discount available per student: 15%.
In order to book a place on the programme, participants need to fill out our Enrolment Form first.  Also, participants need to pay 175€ in advance, as a non-refundable deposit, which can be paid via bank transfer, credit card or PayPal.

Upon receipt of the non-refundable deposit payment (175 €), we will send an email confirming admission in the specified summer camp.

The non-refundable deposit will then be deducted from the final price, and final payment should be made a minimum of two months before the beginning of the lessons. Sending a payment receipt via email is necessary.

Participants may cancel their place on the programme, which will be effective immediately upon receipt email. 70% of the total cost of the program will be refunded when cancelling at least 25 days prior to arrival. 50% will be refunded when canceling up to 14 days before arrival. Furthermore, no refund will be made when cancellation is made less than 2 weeks before arrival.

If the chosen payment method is bank transfer*, the IBAN number will be required.

Account name: 

Advisers for International Programs in Spain, S.L.

IBAN Number: ES05 0075 1129 4206 0018 7614
BIC Code: BSCHESMM
Bank details:

Banco Santander – Avda. del Botánico Cavanilles, 22. 46010 Valencia.
*The participant's name has to be mentioned on all payments. All bank charges are the participant's responsibility.
BOOK A SEAT TODAY
IN OUR
TEEN SUMMER PROGRAMME!
5. the summer camp activities
The afternoon activities and the weekend trips are a big part of our summer programs. They help the students to get to know each other, bond and have fun.
We are still working on this year's Activities Program, but in the meantime you can check out our Instagram feed and see some of the pictures we posted during our last Summer Program and also see what happens at our school.
Interested in our teen summer camp?
Get in touch and we will provide all the information you might need.