As I got on plane in Germany to fly to Valencia, I had many fears and doubts about what I would do the following weeks, would it be the right thing to do for me etc. I constantly asked myself if it wouldn't have been better to do my work experience of six weeks in Germany. But ever since my third day here, where my one-week course of Spanish began alongside meeting such nice and understanding people, I knew that it would turn out to be good.
My Spanish Course
Unfortunately my course was only one week long so of course it wasn't actually the best to really learn something there, because my time was really too short. But because I was landing in the exact class/exact level, which I had just finished with one week before in Germany it was then perfect again I have to say. I could really show my strengths in the past tenses, for example the Perfecto or the Indefinido, which of course was a brilliant feeling to have. But generally, in my opinion, to attend language courses here is absolutely recommendable . The teachers are always very nice and understanding and they are not getting mad or impatient even if they have to explain one topic three or four times. That really did impress me very much. In general, a gorgeous week, where I felt very comfortable with myself and where I could settle in already for my five weeks of my work experience ahead.
My Work Experience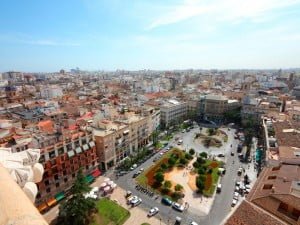 On the then tenth day of my time in Valencia my work experience started in the office of the school and on my first day the school director came up to me and asked me, if I was happy. Something I really wasn't expecting and which really surprised me. But exactly that was, what was showcasing the whole mentality of the people at the AIP Escuela de Español. Being happy stands first on the agenda, because the motto here was: "Who's happy can work better."
Now let's turn to my work, every day was different but kind of the same at the same time. I got different tasks every day but I still had kind of the same daily routine to go through, which made it easier for me to settle and "come in". All in all the same as you know from Germany, much to do, but still much communication and fun with the colleagues, here of course in Spanish, which was a special delicacy for me, because I always wanted to learn Spanish.
For me one of the best if not even the best working experience in my whole life, especially because of all the kind and understanding people, which were open for questions each second of the six weeks, especially because my Spanish wasn't that good at the beginning, that I would've understood each explanation of the tasks, which I should've been doing.
My Apartment
For the six weeks of my stay I lived in an apartment with sometimes 2, sometimes 3, sometimes 4 roommates from the most different countries of the world, China, Canada, France, just to name some examples. So it's never got boring "privately" seen as well. That too was truly wonderful, with truly everyone, it didn't matter if it was with my roommates or outside of my apartment, I had a great time and we all got along really well. I can't remember any fights or arguments at all between me or others from different cultures of the world. I thought that my room was very good, too. Not too small, not too big. You can always go out of your room and search contact with your roommates but if you really need time on your own, you could always close the door and have privacy.
What has to be mentioned too is the location, two minutes of walking away from my school/workplace, it was perfect. Everything you may need like a pharmacy, bakery, supermarket, subway or underground-station (3 stations ahead and you are in the city, 5 more and you are near the beach), bus station, restaurants etc… all reachable within five minutes of walking. All in all, incredible again, that's all you need to say about that, I guess….
My Enterprises Outside The School/Work
Already on my first day at the school I took part in one of the school's organized activities. It was a city tour with Miguel, who's responsible for that department of the school. Due to the fact, that the school has its own travel-agency it organizes enterprises for its students seven days a week one activity each day, for example the visit of the biggest aquarium of Europe, the Oceanográfico, the cooking of Tapas by yourself or a football match at the Mestalla or or or. Those are just a few examples, there are many more things to do. In addition you can also do a lot of stuff outside of the school's organized activities. For example at the end of my first week I went shopping and had dinner in the city with my two French roommates. Everything very recommendable and again something which truly was impressive for me, too.
What else I can add is that I enjoyed every second here, that looking back on it, I will always have amazing memories of my staying in Valencia, everything got me excited starting from my language course and ending with my apartment, the people, the mentality, the sights etc… simply everything. Thank you to everyone, who made this an unforgettable and incomparable experience of my life.
Sandra Braun, November 2013