Often considered the best place to learn Spanish in Spain, Valencia is a modern and exciting city which nevertheless keeps its historical touch. Situated in the center of the Spanish east coast, it is a welcoming cosmopolitan city, which historically has been a place where different civilizations have converged.
Wi
th a population of about one million, Valencia is the perfect destination to learn Spanish in Spain due to is the third largest city in Spain after Madrid and Barcelona. Valencia has a long history, dating back more than 2,000 years, and contains one of the oldest and most beautiful historic city centres in Europe. The city's past is reflected in every building and street you pass when strolling around.It is an architectural melting pot, offering examples of many different periods including Roman, Arabic, Gothic and Baroque.
Valencia boasts an incredible climate, where summer lasts for two months, winter is just a few weeks long, and a spring-like climate persists throughout the rest of the year, which means that the people love spending time in the street, on the terraces and in the open air. The Mediterranean breezes soften the urban environment, turning the beaches of fine white sand and the city centre into a natural suntrap throughout the year. The average annual temperature of Valencia is 17º C (63º F). However, even in the middle of winter, temperatures can often reach 22º C (72º F) during the day. Visitors can enjoy the beach more than eight months of the year, and water sports such as sailing, windsurfing, and kitesurfing are common.
Valencia has many excellent museums, institutions, and entertainment venues for a wide variety of interests. Art lovers flock to the San Pio Fine Art Museum, which in Spain is considered as the second most important art gallery after the Prado Museum.There are also over 200 art galleries in the city. The famous City of Arts and Sciences offers cultural, scientific and entertainment attractions for people of all ages. Valencia also has the only Fallero Museum in the world, which displays the cultural aspects of the region's own unique annual festival, Las Fallas.
In addition, there are two major universities and almost hundred thousand students in Valencia, so the city has a great social scene and distinct night life. Numerous bars and pubs are the venues for never-ending evenings characterized by live music and all kinds of shows. It is easy to recognize why this city is such a popular destination for students from all over the world to spend their semester or year abroad. In fact, Valencia was ranked (together with Granada) among the most popular destination in Europe for ERASMUS students.
Students who want to learn Spanish in Spain, would do well to check out the AIP Language Institute. AIP Language Institute is a Spanish language school accreditted by the Cervantes Institute which receives exchange students from all over the world. In additon to Spanish language classes, AIP Language Institute also organizes an internship program that connects students with businesses in Valencia. Courses are available at all levels of Spanish according to the Common European Framework of Reference for Languages, and include courses in Business, Culture, and preparation for the official DELE exams.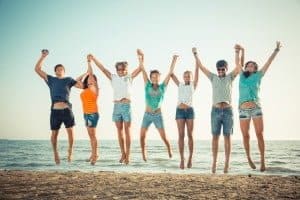 The Institute is located in one of the safest and richest neighbourhoods in Valencia within 10 minutes' walking distance to the city's two university campuses, which offers students the opportunity of living in the university environment. Also you can reach the city centre within a 15 minute walk and the beach is only 10 minutes away by tram. The school offers all the conveniences of a modern institute. The facilities include a computer laboratory, library, learning centre, multimedia classrooms and an assembly hall with a capacity for 60 students, totalling approximately 850 square meters with 18 classrooms. Students receive individual education in small groups from native teachers, all of whom have university degrees in the teaching of the Spanish language.
To complete students' immersion experience, The AIP Language Institute provides several weekly cultural activities as well as weekend trips to cities in Spain and other European countries. AIP also arranges accommodation with host families and in student apartments, and runs conversation exchange activities with native Spanish students.
Aside from regular courses, classes in sailing and kitesurfing are also available. Those interested are encouraged to contact us via our website at www.spanishinvalencia.com. We are waiting for you!