I began my experience in Valencia and at AIP Language Institute with a strong intent to improve my personal and professional background, and I can tell that I succeeded, thanks to this beautiful city and AIP. Valencia is an explosion of beauty and freshness, every corner has its own history and features; a spring-like climate almost all over the year let people enjoy the enormous green spaces and the wide beaches, even during winter. In my opinion, those factors make Valencia one of the most beautiful cities in Spain.
From the first day at AIP Language Institute, I have been feeling like home in such a cozy and friendly environment, surrounded by an easygoing and young crew of professors and employees. They gave me the chance to deepen my skills and discover new ones, working from a field to another. The spirit of cooperation, harmony and a hard work are the pillars that made this school grow and reinforce in the educational sector.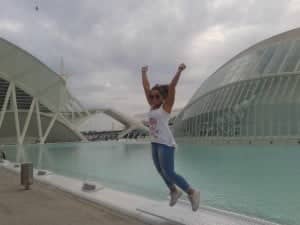 Thanks to AIP Language Institute I myself grew up, working alongside a qualified tea
m in different fields: secretary, website management, translations, administration, assisting the Spanish studies director and much more. Not least, in AIP Language Institute one can work in an international environment and prove his abilities, taking advantage of a stimulating linguistic and cultural exchange.
Valencia offers a wide range of touristic attractions: the City of Art and Science (which includes the biggest aquarium in Europe), the natural park of Albufera, a Biopark, an ancient historical centre, the ex river Turia (turned into a huge park crossing the whole city), numerous beaches, the picturesque suburban area, the vibrant night and day life and so on.
It has been an unforgettable experience for which I will always be grateful to city of Valencia and to AIP Language Institute.