Buñol and the Tomato-Fight
Ever since 60 years, every year there are more than 10 thousand tourists traveling to this usually very calm village in the inside of the province of Valencia to celebrate the day of the tomato.
This year it will take place on the 29 of August. About 11 am the procession of the wagons fully loaded with tomatoes starts to move through the alleyways of Buñol pursuing the objective to paint the whole village tomato-red! In a few hours, everything will be changed. The streets, the alleyways, the fronts and everybody who's within the village…
Let's get red!!
As soon as the signal of the officially fired rocket has been sent, the fight can be started! One wild, crazy and especially red hour begins! Until the signal will be sent again and the fight is over.
Rules of the Tomato-Fight (we promise you, these are the official ones):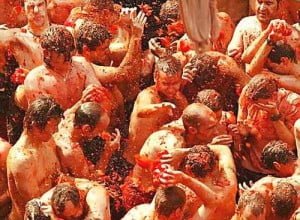 the officially fired rocket signalizes the beginning and the end of the fight
the mature tomato has to be crushed before being thrown
it's not allowed to take bottles or similar objects with you, which could hurt other people
it's not allowed to throw or destroy clothes
Be careful with the wagons driving through the small alleyways!!
And here you get some advice from us:
wear "sturdy shoes" – FlipFlops will surely get lost
Girls, don't wear white shirts and to be on the safe side – wear a bikini under your shirt
if you have one, take diver eyeglasses with you – protect against tomato-juice in the eyes
take swimwear with you, after the fight everybody gets refreshed in the river
don't forget extra clothes
take as little articles of value with you as possible, there will be reams of people and most of them drunk…
Did you know about the special tomato-effect? Using tomato-juice like creme on your body, your skin will get incomparably cleaned…
WELL, I THINK THERE AREN'T ANY REASONS LEFT TO NOT TO JOIN THE TOMATINA! COMMON'!!
VIVA LA TOMATINA IN VALENCIA!